Zulu Tradition in School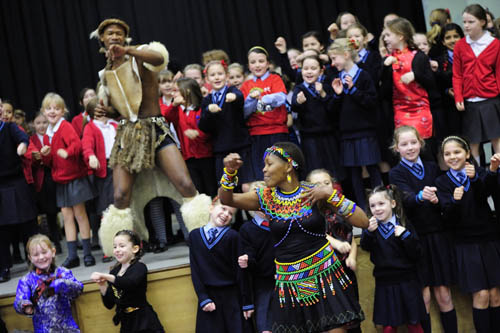 Educational Workshops & and Residencies. Single or multiple days in your school, college or workplace. It may also be possible for two nearby establishments to combine for a day.
Click here to see a ZULU day from the school's perspective. Here's a link to Merchant Taylor's School in Manchester with a description of their day including photos and reports by the children.

"It was really fun because they had a boys' dance that only boys could do, and a girls' only dance that only the girls could do. We were really good so the Zulus made all the teachers dance. Later we went back to the Zulus and we had a go at playing the Zulu drums and learnt another dance. Each year had to perform their dance in front of the rest of the school. I've got to say it was one the most enjoyable days of my life." - James, pupil at Merchant Taylor's School
We were waiting for them to appear, we could hear them singing but couldn't see them. They finally came out on to the stage, they were holding colourful bright shields and the singing and dancing was fantastic. During the performance we joined in by clapping to the music. Then there was a surprise for us. Some of the teachers had to dance in front of us, it was hilarious. I think Mrs Rogers danced the best. After that there was a girl dance with the Zulus and then the boys. I thought the boys were best! After lunch there was a Zulu workshop were we learnt how to do the Zulu moves. Then we had to dance in front of the school. It was great fun. It was an amazing day and I did not want the Zulus to go." - Charlie P, pupil at Merchant Taylor's School
The ZULU performers are all experienced educators with a diverse programme of school workshops and many years experience of delivering them as part of a cohesive programme. Talk to us about one-off workshops or schools residencies, which can be a part of a festival outreach programme or can be booked by individual or groups of schools.
"Wow! What a fantastic day. The morning assembly set the scene for an exciting and energetic day. The workshop was pitched at exactly the right level with the right amount of audience participation. All the children loved it and the dancers were wonderful and so enthusiastic. A super experience. Thank you." - Market Drayton Primary School.
"Amazing. They got children involved, the whole school enjoyed the day. They got the children speaking their language. Would recommend them to other schools." - Headteacher, Market Drayton Primary School
"FANTASTIC! Children and adults thoroughly enjoyed the experience. Brilliant how they did different things with each year group. Great Experience." - Headteacher, Market Drayton Primary School
Read the whole (unedited) feedback sheet from Market Drayton Primary chidren and staff.
Workshops and educational performances
The following workshops are a sample of what can be achieved in a full day for a school or college. It's possible to mix and match different workshops and any workshops at your school or college will be discussed with you and prepared in advance for maximum educational value. All of these workshops can be adapted for any age group - even for adults at festival or corporate training days.
Left: Thandanani Gumede
Workshops encourage:
* Diversity awareness
* Breaking down the barriers around prejudice
* Ethnic, religious and racial equality
* Community building
* International understanding leading to local benefits
Left: Buhle Mhlongo and Zama Siphengana lead a song workshop
A day with Zulu is a total cultural experience!
School Workshop Programme
A typical Full Day includes a 45 minute introduction for the whole school plus a choice of three workshops from the following and a short final performance for children to showcase what they've learned during the day. You can invite parents or people from your community to this. Times are flexible to suit your timetable and break times. (Or four workshops if you don't want the showcase finale.)
We strongly suggest starting with the General Workshop and Showcase at a start time to suit you, say between 9.15 and 10.00. After that you can select from the choices of half-hour workshops below and fit them in to suit your day
Start your day with one fixed item....
GENERAL INTRODUCTION – 45 minutes
For the whole school or as many as can squeeze into the school hall. This is an essential introduction to your day's workshops and all children attending workshops should attend this introductory session.
A fun interactive workshop highlighting geography, history, language, costume and community of the traditional & modern Zulu. Including the significance of dance & song in a Zulu community. Meet the cast. Experience the heartbeat of Africa in powerful dance sequences and mesmerizing Zulu traditional war chants and songs.
Then choose from...
DANCE WORKSHOP – 30 minutes
Suggested maximum of 60 pupils, boys and girls (more by negotiation).
Explore Zulu rhythms and learn a traditional dance routine, steps and the meaning behind it all.
Left: Thandanani Gumede (front) and Kethukuthula Kheswa (back) lead a boy's dance.
SONG WORKSHOP – 30 minutes
Suggested maximum of 60 pupils, boys and girls (more by negotiation). Learn traditional Zulu songs and techniques that are essential in African vocal music.
PERCUSSION WORKSHOP - 30 minutes
Suggested maximum of 60 pupils. You will need to provide participants with drums (any kind). We have an expert drummer with a wealth of experience both locally and abroad. We will work closely with schools on this project to teach novices and develop the talent of those who already know how to play, but who want to further improve their skills. Drums are associated with spiritualism in the African culture. Plenty of that is explained in the workshop. We specialise in the Kenyan djembe drum and the Zulu bass drum.
ART & BEADWORK WORKSHOP – 30 minutes
Suggested maximum of 30 pupils.
The Zulu performers, dressed in traditional costume will be live models for art and will explain and show traditional costume, artefacts, masks, African tools (including some of the tools used by magical traditional healers such as ishoba), musical instruments and colourful beadwork and talk about the significance of the designs and how to design Zulu beadwork. Items are on display for the students to examine, photograph and draw, learn the correct spelling, historical details and accurate pronunciation. Some are even given an opportunity to try on the masks and beaded headdresses.
LANGUAGE & COMMUNITY WORKSHOP - 30 minutes
Suggested maximum of 30 pupils
Learn how to meet and greet and to say simple phrases in Zulu. Think you know how to pronounce the letter 'X'? It's a click in the back of your throat. Language and culture are intertwined. Sometimes it's not what you say, but how you say it. A fun intriduction to Zulu language while putting over concepts such as community spirit, forgiveness and reconciliation and how the Zulu, famed as warriors, choose to live in peace after years of conflict.
AFTERNOON COMMUNITY PERFORMANCE - 20-30 minutes
For the whole school + parents (if appropriate) in the school hall or theatre space. It showcases the pupils' participation. The Zulus will present a short, costumed community performance of song, dance and drumming. This will bring the children into the limelight with the Zulus for a live stage performance and will be the culmination of an exciting day of workshops, giving even the most reticent children the opportunity to succeed. A great confidence-booster.
Left: Thandanani leads boys and girtls in another dance.
"I thought the Zulu dancers were brilliant. The children got involved, even the really shy ones. They also answered questions very well."
Evening Performances
Available as an extra as a school fundraiser. Please enquire.
Left: Mzwandile Ngema playing drum (djembe) with singers and dancers: Zama Siphengana, Thandanani Gumede, Buhle Mhlongo and Khethukuthula Kheswa.
More feedback from the children:
"I liked the Zulu dancers because of how they danced and what they wore. I had lots of fun doing the dance and learning it. I like the beat and how they spoke." - David Aged 7
"I like them, I thought they were fabulous. I like the dancing, the music and the beat. The sound of their singing was beautiful." - Owen Aged 7
"My favourite was when one of the men did the back flip – it was really clever. I liked the sound of the drum beats. I think the men looked really good in their costumes. The whole thing was really, really clever." Daniel Aged 6
Press